1973 Ford Mustang Coupe

Original 302 V8 and C4 Automatic • Lots of Chrome • Great Daily Driver
Arizona

Kathy's Asking $9,000.00 obo

Reserve today with a $1,000.00 service fee deposit!
This deposit acts as our refundable service fee and does not go toward the sale price of the vehicle.


SOLD to Mark in Australia!

---
Let Me Tell You About the Owner...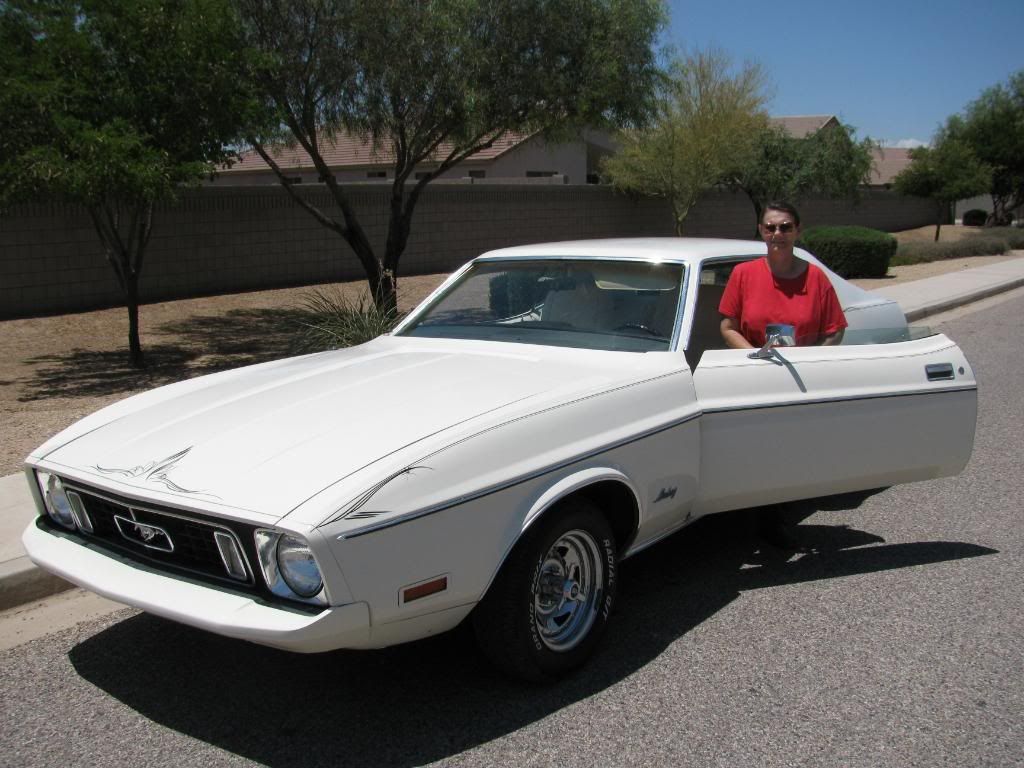 Kathy and her sister, Crystal, as selling their mother's favorite ride of over thirty years. Kathy's mother bought this Mustang in 1976 and was its second owner. Her husband is a hot rodder from way back, so he did a lot of work on the engine compartment of this car, including lots of chrome, an aftermarket heavy-duty radiator, and a 4-barrel carb instead of the original 2-barrel carb. Unfortunately, Kathy's mother is now going through a lot of medical and living expenses, so she has to sell her baby to help make ends meet.
---
MustangOnlyOne Summary:
What makes this 'Stang so great is that it is a 1973 Ford Mustang Coupe that still has its original 302 V8 engine and C4 automatic transmission. The car's odometer reads about 18,000 miles, but it has rolled over, how many times Kathy isn't sure. But the engine has had a lot of attention and maintenance over the years, so it runs strong, a great driver; it also has power steering, power brakes, and air conditioning. The paintjob looks very good and the body is solid, no damage. The interior is in very good driver condition--there's some minor wear, such as in the back seats and the chrome on the console, but it looks great and requires no work as-is. The undercarriage is solid, damage- and Arizona rust-free. For overall structural integrity and preservation, MustangOnlyOne gives this car an 8 out of 10 points, as it is structurally sound but has lot some of its originality, which will affect a potential future restoration project. For overall aesthetic quality and performance, MustangOnlyOne gives this car a 10 out of 10 points as a daily driver, as it runs great and looks beautiful.
For VIN Decoding:
For NADA Pricing:
This is a daily driver car with street-show components in very good condition. It can be trustfully driven anywhere. We guarantee satisfaction with this vehicle upon final inspection and we will assist in loading for transport. It has no other warranty or guarantee of any kind and is sold as is. All we can do is describe the vehicle for full disclosure as detailed as possible, inside, outside, and underside. This vehicle is sold on consignment by MustangOnlyOne for the original owner. MustangOnlyOne has performed a complete inspection and appraisal of this vehicle. We also provided the photo session and listing.
---
MustangOnlyOne Inspection:
These are our more detailed inspection pictures, which include any visible damages and customized extras.
Please examine them carefully before making your decision.
---
MustangOnlyOne Closing:
Here are pictures of the loading of Kathy's Mustang to be shipped to California, where it will be shipped overseas to its new owner.
---
If you have any questions about this or any of my other auctions please feel free to contact us via email or call us at 1-904-860-4102 9:00am to 9:00pm Eastern Standard Time. We are located in bright sunny Florida.
Thank you for your interest, we look forward to hearing from you.
Return to previous page