1971 Ford Mustang Grande

302 2v V8 • Disc Brake Conversion • A/C • Daily Driver
Reserve today with a $500.00 service fee deposit!


SOLD for $2,700.00 to a local guy!

---
Let Me Tell You About the Owner...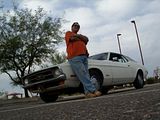 Rick's a rough and tough guy with a rough and tough ride! He does concrete for all types of customers, residential and commercial, and has done so for years. He got this car from a Gypsy in Pheonix, Arizona, and found inside of it a receipt dating back to purchasing this car brand-new in 1971 for just a couple of thousand dollars. It has only about seventy-thousand miles on it when he bought it about fifteen years ago, and has put on almost one-hundred thousand miles since then, so you know this driver's hit the road. Rick put a lot of money into this baby during his time with her, including a new front end and disc brakes.
Thank you for helping us save this beauty! She needs to be in the right hands: someone that will garage her, maybe restore her, and love her.
---
MustangOnlyOne Summary:
What makes this 'Stang so great is that it is a 1971 Ford Mustang Grande hardtop that drives strong and has a lot of great options, including power steering, power brakes, front disc brakes and air conditioning. Rick paid about $4,000.00 dollars to have the front end replaced and disc brakes installed. The undercarriage is solid and rust-free, though the body metal does have some damage--a small rust spot is showing up on the panel beneath the driver's door and a hole about the size of a dime is above the rear quarter panel, near the roof. Because of this hole, the roof is rusting on the inside, but otherwise this car is solid and rust-free. The 302 2v V8 engine runs strong at 166,821 miles, which we believe are original, and the C4 automatic transmission shifts great too. The interior has pretty heavy wear, especially on the roof and front seats, though the back seats and dash are in very good condition. The roof and the seats will need to be reconditioned or restored in order for this car to be in excellent shape. For overall structural integrity and preservation, MustangOnlyOne gives this car an 8 out of 10 points as a daily driver, as it is all-original to our knowledge yet does have some damage and rust. For overall aesthetic quality and performance, MustangOnlyOne gives this car a 7 out of 10 points as a daily driver, as it runs strong and can hit the road anytime, but does have some iuslightly blemishes and wear. This is a good daily driver that just needs a little TLC to get it looking great.
For VIN Decoding:

For NADA Pricing:
This is a daily driver car in very good condition. It can be trustfully driven anywhere.

We guarantee satisfaction with this vehicle upon final inspection and we will assist in loading for transport. It has no other warranty or guarantee of any kind and is sold as is. All we can do is describe the vehicle for full disclosure as detailed as possible, inside, outside, and underside. This vehicle is sold on consignment by MustangOnlyOne for the original owner. MustangOnlyOne has performed a complete inspection and appraisal of this vehicle. We also provided the photo session and listing.
---
MustangOnlyOne Inspection:
These are our more detailed inspection pictures, which include any visible damages and customized extras.
Please examine them carefully before making your decision.
Thank you for your interest, we look forward to hearing from you.
Return to previous page