1966 Ford Mustang 2+2 Fastback

289 2v V8 • 4-Speed Manual • Fully Restored

---
Let Me Tell You About the Owner...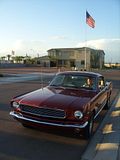 Shawna and her husband, Gary, found this car a few years ago sitting under a tree in Cornville, Arizona. It had been sitting there fore over twenty years and was being exposed to every element Arizona has. Luckily, Shawna and Gary immediately rescued it and began the restoration process to bring this baby back to style. The man they bought it from had purchased it brand-new for his daughter, back in 1966. This makes Shawna and Gary the second owners.
Gary did all the restoration work himself on this car, except a $5,000.00 paintjob (only the best for this one!) that began with stripping the entire car and bringing the body down to bare metal. This is THE best way to restore a Mustang, so you know that paintjob looks absolutely amazing. Gary replaced every part necessary but kept all the original components on that he could. There are a few minor things which need to finished on this car (such as the chrome on the steering wheel), but Shawna and Gary are selling all the parts they have along with this car to get you started.
Thank you for helping us save this beauty! She needs to be in the right hands: someone that will garage her, drive her, and love her.
---
MustangOnlyOne Summary:
What makes this 'Stang so great is that it is a 1966 Ford Mustang 2+2 Fastback that is 99% restored--it just has a few more very minor things to finish up, such as the steering wheel and the grille emblem. This car has a 289 2v V8 engine with 130,000 original miles and has never been rebuilt but runs great and a 4-Speed manual transmission. The interior is in great shape, very well restored and has no damage. The paintjob is simply spectacular--Gary knew what he was doing--looks great, no runs visible and the metal is smooth and well-treated. This is an Arizona car, too, so no rust. The undercarriage has some grime and wear from use but no damage or corrosive rust. The engine compartment is in daily driver condition, which means some grime and wear from regular use, but there are no problems and the engine runs like a beast. For overall structural integrity and preservation, MustangOnlyOne gives this car a 10 out of 10 points as a driving restored car, as it is mostly original and has had no major changes, and is structurally solid and rust-free. For overall aesthetic quality and performance, MustangOnlyOne gives this car a 9 out of 10 points as a driving restored car, as a few things have yet to be finished to make it 100% restored, and the engine was never rebuilt (though this won't pose a problem unless you're going to concours or like-new condition) but still runs great. A perfect driver for weekends on the town.
For NADA Pricing:
This is a restored classic car in great condition. It can be trustfully driven anywhere.

We guarantee satisfaction with this vehicle upon final inspection and we will assist in loading for transport. It has no other warranty or guarantee of any kind and is sold as is. All we can do is describe the vehicle for full disclosure as detailed as possible, inside, outside, and underside. This vehicle is sold on consignment by MustangOnlyOne for the original owner. MustangOnlyOne has performed a complete inspection and appraisal of this vehicle. We also provided the photo session and listing.
---
MustangOnlyOne Inspection:
These are our more detailed inspection pictures, which include any visible damages and customized extras.
Please examine them carefully before making your decision.
---
If you have any questions about this or any of my other auctions please feel free to contact us via email or call us at 1-904-860-4102 9:00am to 9:00pm Eastern Standard Time. We are located in bright sunny Florida.
Thank you for your interest, we look forward to hearing from you.
Return to previous page