1968 Ford Mustang Coupe

289 4v V8 • 5-Speed Manual • Over $16k Invested

---
Let Me Tell You About the Owner...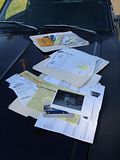 This car was a father/son project going back about seven years. Lane bought this car for his son when his son was fifteen, and they worked on it together as a project car for a few years. Lane's son drove this car during high school and college in California. We're told he got a lot of female attention while driving this 'Stang around the Californian campus! Unfortunately, he got into a minor accident (boys will be boys, right?) which damaged the driver's door and the paint along the left side, so he had to bring this baby back to Arizona and to Lane's house. In a way, this Mustang took a multi-year trip all the way to the West Coast and back! Lane has since put a lot of work into it, including fixing the body damage from the accident and replacing the door.
Thank you for helping us save this beauty! She needs to be in the right hands: someone that will garage her, drive her, and love her.
---
MustangOnlyOne Summary:
What makes this 'Stang so great is that it is a 1968 Ford Mustang Coupe with an almost new 289 4v V8 engine and a 5-speed manual transmission and over $16,000 invested in it. This car also has disc brakes on the front, Flowmaster exhaust and headers, CD player, and aftermarket bucket seats. Lane has replaced the body panels that were damaged in its accident, but the paint still needs finishing. The engine compartment is in great shape and the engine itself is dressed up and beautiful. This car runs strong, a perfect driver car. For overall structural integrity and preservation, MustangOnlyOne gives this an 8 out of 10 points, as it has a lot of aftermarket modification and a minor accident in its history, but is otherwise structurally sound and rust-free. For overall aesthetic quality and performance, MustangOnlyOne gives this car a 9 out of 10 points as a daily driver, as it looks very good except for the paintjob on the driver's side which is yet to be completed. A perfect daily driver car for someone who doesn't mind doing a little paint and body work to get her back to ship-shape.
This is a daily driver car in very good condition. It can be trustfully driven anywhere.

We guarantee satisfaction with this vehicle upon final inspection and we will assist in loading for transport. It has no other warranty or guarantee of any kind and is sold as is. All we can do is describe the vehicle for full disclosure as detailed as possible, inside, outside, and underside. This vehicle is sold on consignment by MustangOnlyOne for the original owner. MustangOnlyOne has performed a complete inspection and appraisal of this vehicle. We also provided the photo session and listing.
---
MustangOnlyOne Inspection:
These are our more detailed inspection pictures, which include any visible damages and customized extras.
Please examine them carefully before making your decision.
---
If you have any questions about this or any of my other auctions please feel free to contact us via email or call us at 1-904-860-4102 9:00am to 9:00pm Eastern Standard Time. We are located in bright sunny Florida.
Thank you for your interest, we look forward to hearing from you.
Return to previous page