1966 Ford Mustang Coupe

289 2v V8 • 4-Speed Automatic • Daily Driver
TRADED for a 1926 Ford Hotrod!


---
Let Me Tell You About the Owner...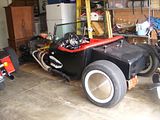 Doug met Ken out in Arizona and got a chance to look at all of Ken's great projects. Ken is a mechanical man by nature, and as you can see, he likes tinkering and modifying vehicles of all different kinds--motorcycles, classic cars, hot rods and more. He currently owns two Mustangs--this one and a '65 Fastback that hasn't been driven in about 7 years. This one he's moving out to make some room. He got it a while back in California from a guy that buys and sells Mustangs all the time, and has done quite a bit of work on it since, including restoration and some aftermarket add-ons, but nothing that required any drastic modification.

Thank you for helping us save this beauty! She needs to be in the right hands: someone that will garage her, drive her, and love her.
---
MustangOnlyOne Summary:
What makes this 'Stang so great is that it is a 1966 Ford Mustang Coupe that has been maintained as a daily driver and in good interior and great exterior condition. It's C-code 289 2v V8 and C4 Auto transmission are numbers-matching and run strong. This car also has lots of options: power steering, power brakes, air conditioning (though the compressor is missing, it's all set up in the interior), as well as an aftermarket CD player and stereo system. The upholstery, especially the door pads, are pretty worn from age and use, and this shows up especially on the original white color, which doesn't appear to have ever been reconditioning. However, it is also free of tears or damage, so the upholstery will recondition very nicely. The engine compartment has had a lot of work done on it, and as such it is very clean and looks great. The engine has been dressed up with newer Ford Blue engine paint. This is a Western car, having only ever been in California and Arizona, and as such is rust-free. The undercarriage looks great, is very solid and, along with the whole car, damage-free. For overall structural integrity and preservation, MustangOnlyOne gives this car a 10 out of 10 points as a daily driver, as it is solid and all the important original components have been preserved, if not restored. For overal aesthetic quality and performance, MustangOnlyOne gives this car an 8 out of 10 points as a daily driver, as it has had some modification that makes it not numbers-matching (the exterior paintjob is a big one) and has some moderate to heavy wear on the interior. The perfect car for someone looking for a car to have fun with and maybe restore or recondition the interior.
For NADA Pricing:
This is a daily driver car in very good condition. It can be trustfully driven anywhere

We guarantee satisfaction with this vehicle upon final inspection and we will assist in loading for transport. It has no other warranty or guarantee of any kind and is sold as is. All we can do is describe the vehicle for full disclosure as detailed as possible, inside, outside, and underside. This vehicle is sold on consignment by MustangOnlyOne for the original owner. MustangOnlyOne has performed a complete inspection and appraisal of this vehicle. We also provided the photo session and listing.
Bid with Confidence!
---
MustangOnlyOne Inspection:
These are our more detailed inspection pictures, which include any visible damages and customized extras.
Please examine them carefully before making your decision.
---
If you have any questions about this or any of my other auctions please feel free to contact us via email or call us at 1-904-860-4102 9:00am to 9:00pm Eastern Standard Time. We are located in bright sunny Florida.
Thank you for your interest, we look forward to hearing from you.
Return to previous page