lns="">
1968 Ford Mustang GT Fastback

J-Code 302 4v V8 • C4 Automatic • Factory GT


SOLD for $23,000.00 and off to Butch in Texas for a complete restoration! Check out Butch's plan in our Community page!


Let Me Tell You About the Owner...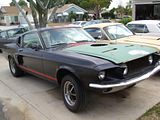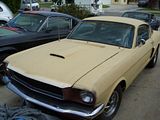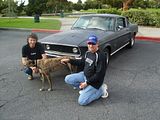 Jim is a long-time Mustang Man out West that let our main car-finder Doug come and check out his extensive Mustang collection. Jim works on all these Mustangs with his close circle of friends that have formed a sort of a hobby restoland together in Jim's area. He buys them, works on them, sells them, all depending on what comes through his hands and when. This particular GT has been at his place for quite some time now as it was to be his personal driver, and he hasn't had the time to work on her, but he knows there's someone out there with the time and love necessary to get her done. Good thing Doug came around when he did, so we can help him get the word out on this great car and find its next owner.
hank you for helping us save this beauty! She needs to be in the right hands: someone that will garage her, restore her, and love her.
---
MustangOnlyOne Summary:
What makes this 'Stang so great is that it is a Factory 1968 Ford Mustang GT Fastback is that it is loaded with options (a rare 20 option car and most are on the car) and absolutely the perfect car to paint to finish the 90% restored car. It has a J-Code 302 4v V8, C4 Automatic Transmission, power steering, power disc brakes, and air conditioning (though the compressor appears to be missing but it has a box of extra AC parts with hoses and more), factory rare 9 inch with 3:25 posi, console, factory rare tilt steering wheel, AM-FM 8 track and fold down rear seat. The car has headers with dual exhaust exiting the GT valance and GT exhaust tips that give it a good throaty sound. What's more, the body and frame appear to be free of damage or a wreck in its history, and the undercarriage is California rust-free and completely solid--just a little grey from the dust. The engine and transmission only have 1000 miles since full rebuild and drive strong, so you can have some fun with this car. The interior is completely new down to the new fold down chrome, carpet headliner, dash pieces and factory GT woodgrain door panels. Jim has done a lot of work on the body and engine of this car, and it is primed and ready to paint. What is left is minor cosmetics and the paintjob. For overall structural integrity and preservation, MustangOnlyOne gives this car a 10 out of 10 points as a daily driver or ready-to-restore. For overall aesthetic quality and performance, MustangOnlyOne gives this car a 10 out of 10 points as a daily driver or ready-to-restore.

For NADA Pricing:
For Marti Report:

This is a 90% restored muscle car in excellent condition. Since we have taken the pictures Jim has had all of the finish body work done and put a rebuilt 750 Holley on the aluminum 4 v intake. We guarantee satisfaction with this vehicle upon final inspection and we will assist in loading for transport. It has no other warranty or guarantee of any kind and is sold as is. All we can do is describe the vehicle for full disclosure as detailed as possible, inside, outside, and underside. This vehicle is sold on consignment by MustangOnlyOne for the original owner. MustangOnlyOne has performed a complete inspection and appraisal of this vehicle. We also provided the photo session and listing. We are very proud to offer this 1968 Ford Mustang GT Fastback for auction.
Bid with Confidence!
---
MustangOnlyOne Inspection:
These are our more detailed inspection pictures, which include any visible damages and customized extras.
Please examine them carefully before making your decision.
If you have any questions about this or any of my other auctions please feel free to contact us via email or call us at 1-904-860-4102 9:00am to 9:00pm Eastern Standard Time. We are located in bright sunny Florida.
Thank you for your interest, we look forward to hearing from you.
Return to previous page