1968 Ford Mustang GT 2+2 Fastback

X-Code 390 2v V8 • Ready to Restore • Only 189 Made!


Let Me Tell You About the Owner...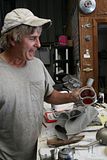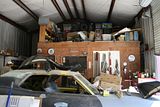 Dave's a friend of ours here at MustangOnlyOne who runs a glass and body shop literally just down the road from our main base. He's had this baby for a couple of year now, and has simply never had to the time to finish the restoration in between all the work he does for other car aficionados around town and his other projects. For instance, he just recently finished replacing the entire truck bed of a Chevy Colorado! Dave can do all kinds of work, big and small, in his cool little shop.
Tim and Savannah met with Dave to photograph this Fastback he has had for 6 years, rebuilding the engine and painting the body along the way. The previous owners were a husband and wife who owned the Mustang for 10 years. Now, he's moved on to a different project--an antique Ford Model A! He does his own paint and body work and is right in it with that beautiful classic. Dave is ready to sell this 'Stang, after completing some good restoration work, to clear the way for more classic cars!

Thank you for helping us save this beauty! She needs to be in the right hands: someone that will garage her, restore her, and love her.
---
MustangOnlyOne Summary:
What makes this 'Stang so great is that it is a 1968 Mustang GT 2+2 Fastback with a lot of power, just waiting to hit the road (or the showroom floor) again. It has a freshly rebuilt, extremely rare X-Code 390 2v V8 engine, one of only one-hundred and eighty-nine (189) ever made (Dave tells us this engine has only ONE mile on it since he rebuilt it) and a C6 automatic transmission. This car also comes with power steering, power brakes (with disc on the front), and air-conditioning. Note that this car originally came with a different exterior paint color, so this car is not completely numbers-matching as is, though it could be made to be during the restoration process. The exterior looks good (this is maybe a 10-footer, as it is a 6-year old paintjob), though there are some bubbles and flaking. The undercarraige is solid and has been treated for rust--everything is undercoat black, just right. The exhaust has been removed and will need to be purchased and installed, but the car has a new gas tank. The interior needs restoration, as most of it has been removed (though Dave has a lot of parts to be included, such as the instrument cluster and at least one door panel) though the seats are in very good condition--they will need minor reconditioning only. For overall frame integrity and preservation, MustangOnlyOne gives this car a 9 out of 10 as a ready-to-restore, as it has almost all-original, numbers-matching components and is structurally solid and free of major damage.
For VIN Decoding:

For NADA Pricing:
This is a classic muscle car in ready-to-restore condition. We guarantee satisfaction with this vehicle upon final inspection and we will assist in loading for transport. It has no other warranty or guarantee of any kind and is sold as is. All we can do is describe the vehicle for full disclosure as detailed as possible, inside, outside, and underside. This vehicle is sold on consignment by MustangOnlyOne for the original owner. MustangOnlyOne has performed a complete inspection and appraisal of this vehicle. We also provided the photo session and listing. We are very proud to offer this 1968 Ford Mustang GT 2+2 Fastback for auction.
Bid with Confidence!
---
MustangOnlyOne Inspection:
These are our more detailed inspection pictures, which include any visible damages and customized extras.
Please examine them carefully before making your decision.
If you have any questions about this or any of my other auctions please feel free to contact us via email or call us at 1-904-860-4102 9:00am to 9:00pm Eastern Standard Time. We are located in bright sunny Florida.
Thank you for your interest, we look forward to hearing from you.
---
SOLD!
Mike up in Kentucky grabbed this rare Mustang! He has completed a couple of restorations before this one, but this will be his first Mustang restoration. He wants a daily driver that he can work on while showing it off! The 390 engine sold this one for him from the beginning. Have fun Mike!
Return to previous page