1965 Ford Mustang GT Coupe

A-Code 289 4v V8 with 4-Speed • Ready to Restore


Let Me Tell You About the Owner...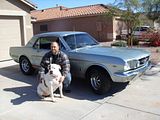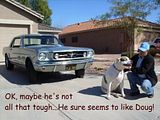 Jerry bought this car from its original owner in California eleven years ago. He drove it everyday to work for about five years after that, until he parked it in his garage six years ago after buying a truck with air conditioning (with that Arizona heat, we don't blame him). Since then, he has removed and disassembled the engine and transmission with the intention of rebuilding them (he was a Ford mechanic for about 15 years, so he knows what he's doing). However, other things took over his time and he never found the time to finish their rebuilds, and now has to sell the car. He's a longtime Mustang fan and really knows these cars--he belong to the California Mustang Club when he was younger and lived in California. Nowadays he's looking to pay some bills, but keeps his 150-pound Pit Bull nearby to his baby Mustang at all times--who needs a car alarm with him around?--to make sure this car gets into the right hands.

Thank you for helping us save this beauty! She needs to be in the right hands: someone that will garage her, restore her, and love her.
---
MustangOnlyOne Summary:
What makes this 'Stang so great is that it is a 1965 Ford Mustang GT Coupe that is all-original and numbers-matching. The A-Code 289 4v V8 engine and 4-Speed Super T-10 manual transmission have been pulled and disassembled, so they are ready to be rebuilt. The rest of the car is in amazingly well-present condition; the interior looks great and is up to par for an excellent daily-driver as is. There doesn't appear to be any damage or anything more than minor wear anywhere inside, except for one of the radio buttons, which has been torn off. The undercarriage is solid and rust-free, a bit dirty and the exhaust has some heavy rust, but this isn't a big deal. This car has never been wrecked and still has all the original sheet metal and body parts. As you can see from the slideshows, the engine compartment is virtually empty, Jerry having removed everything to restore. This car did come with disc brakes on the front, which are still here and work well. For overall frame integrity and preservation, MustangOnlyOne gives this car a 10 out of 10 points as a ready-to-restore car, as every original aspect has been preserved and is ready to be delivered to you. Furthermore, it is a solid car with no damage or anything that would prove troublesome during the restoration process. For overall aesthetic quality and performance, MustangOnlyOne gives this car a 10 out of 10 points for quality as a daily driver and a score of N/A for performance. The quality for this car, by daily driver standards, is simply amazing, with the exception of the engine compartment, which has been disassembled for the purpose of restoration. The buyer of this car could go one of two ways with this vehicle: one, he could simply restore the engine compartment and have a daily driver in excellent condition, as everything except the engine compartment could be left as is; or two, he could continue the disassembly process and create a beautiful, concours-matching show car with all the great parts this car comes with, and it wouldn't be too much work, as most of this car would require mild reconditioning only.
This is a project car in ready-to-restore condition. We guarantee satisfaction with this vehicle upon final inspection and we will assist in loading for transport. It has no other warranty or guarantee of any kind and is sold as is. All we can do is describe the vehicle for full disclosure as detailed as possible, inside, outside, and underside. This vehicle is sold on consignment by MustangOnlyOne for the original owner. MustangOnlyOne has performed a complete inspection and appraisal of this vehicle. We also provided the photo session and listing. We are very proud to offer this 1965 Ford Mustang GT Coupe for auction.
Bid with Confidence!
---
MustangOnlyOne Inspection:
These are our more detailed inspection pictures, which include any visible damages and customized extras.
Please examine them carefully before making your decision.
---
MustangOnlyOne Extra Parts:
Here is a slideshow of all the extra parts that Jerry is including in this purchase, including the engine and transmission, which have been removed and disassembled in preparation for the rebuilt.
If you have any questions about this or any of my other auctions please feel free to contact us via email or call us at 1-904-860-4102 9:00am to 9:00pm Eastern Standard Time. We are located in bright sunny Florida.
Thank you for your interest, we look forward to hearing from you.
Return to previous page