1968 Ford Mustang GT California Special

Rebuilt 289 4v V8 with Auto Trans • One of 4,118


Let Me Tell You About the Owner...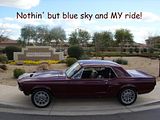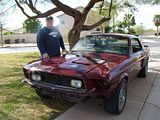 Mike's a nice guy who unfortunately let time get away from him on this Mustang. He bought it from the original owner in 1990, so that makes him the second owner, and has done a lot of work on it since, including rebuilding the engine and transmission and giving it a new paintjob. He has a Marti report authenticating its rarity and even the license plate frames from Harrold Ford, the dealership where this car was bought brand-new in the sixties.
For a long time in Mike's world, it was just blue sky and his ride; but time caught up with him, and now he's got a wife and kids and all kinds of things that keep him from finishing this Mustang. Mike feels that its time for this rare Mustang to go to a new owner, someone who can finish her restoration and get her back on the road where she belongs.

Thank you for helping us save this beauty! She needs to be in the right hands: someone that will garage her, restore her, and love her.
---
MustangOnlyOne Summary:
What makes this 'Stang so great is that it is a 1968 Ford Mustang GT California Special, one of only 4,118 ever made. Mike has a Marti Report to authenticate this. It has the original C-code 289 V8 and the original C-4 automatic transmission, which Mike rebuilt about 1000 miles ago. It also has power steering (which is leaking), power brakes with discs on front, and air conditioning. When Mike rebuilt the motor, he installed 351 Windsor heads (though he still has the original 289 heads, which will be included with the purchase), JBA Shortie headers, an Edelbrock 4v carburetor and aluminum intake. He also replaced the water pump and radiator, so this car runs great and stays cool. The paintjob does not match the original color but is in very good shape. The interior is in ready-to-restore condition, with no major damage or heavy wear, though the rear seat is missing. The undercarraige is solid and rust-free, and the exhaust is like-new. For overall frame integrity and preservation, MustangOnlyOne gives this car an 8.5 out of 10 points as a ready-to-restore car, as some of its original components (paintjob, carburetor) have not been preserved and would be costly to mend to make the car numbers-matching again, but otherwise it is a solid car with no major damage. Furthermore, the major work in restoring the engine, transmission and exhaust system has already been completed, and the paintjob looks great if you're not looking to make it numbers-matching.
For VIN Decoding:

For NADA Pricing:
This is a project car in very good condition. It can be driven, but is not currently street-legal. We guarantee satisfaction with this vehicle upon final inspection and we will assist in loading for transport. It has no other warranty or guarantee of any kind and is sold as is. All we can do is describe the vehicle for full disclosure as detailed as possible, inside, outside, and underside. This vehicle is sold on consignment by MustangOnlyOne for the original owner. MustangOnlyOne has performed a complete inspection and appraisal of this vehicle. We also provided the photo session and listing. We are very proud to offer this 1968 Ford Mustang GT California Special for auction.
Bid with Confidence!
---
MustangOnlyOne Inspection:
These are our more detailed inspection pictures, which include any visible damages and customized extras.
Please examine them carefully before making your decision.
If you have any questions about this or any of my other auctions please feel free to contact us via email or call us at 1-904-860-4102 9:00am to 9:00pm Eastern Standard Time. We are located in bright sunny Florida.
Thank you for your interest, we look forward to hearing from you.
Return to previous page