1965 Ford Mustang 2+2 Fastback

No Motor • Transmission and Parts included • Rust-Free


Let Me Tell You About the Owner...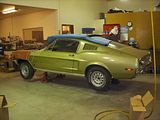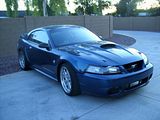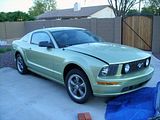 Ed's got another car for us to sell. Well, this one he works on and owns with his business partner, Brian. He sent Doug, our carfinder and photographer out to meet Brian and see their extensive Motorsport operation. Ed originally found this car from a guy who had it since 1986. They're fans of both classic and modern Mustangs--check out the two duex-aughts they have. Brian runs an engine and automotive custom shop alongside Ed's restoration business, where they have plenty of Mustangs. Brian specializes in engine customization and rebuilding, but also helps Ed do the body work all the time.
They've had this car in their shop for a while now, but need to move the car on out so they can work on all the other cars they have, for themselves and for their customers. Fortunately, we have already established rapport with Ed, so he decided to get in touch with us and hopefully make it happen.

Thank you for helping us save this beauty! She needs to be in the right hands: someone that will finish her, drive her, and love her.
---
MustangOnlyOne Summary:
What makes this 'Stang so great is that it is a project car with virtually everthing except the engine, so it is a great car to begin the complete restoration process on. Included in the sale, though not currently on the car, is a C-4 automatic transmission, headers, an aluminum hi-po radiator, and a hi-po electric water pump. The interior is in very good condition, though there is some wear on the door panels and especially on the seats, though no damage. There is no bottom to the fold-down back seat currently. It has a deluxe 6-gauge instrument panel and a B&M Pro Ratchet racing shifter. The undercarriage and engine compartments are in excellent condition and rust-free, very well-treated and free of damage as well. The body is in overall very good condition and no damage, though it does have paint chipping in various places. In the trunk, Ed and Brian have installed a custom hi-po fuel cell and the battery. For overall frame integrity and reliability, MustangOnlyOne gives this car a 10 out of 10 points as a ready-to-restore project car, as this car is in excellent structural condition and rust-free, the perfect car to restore. For overall quality and aesthetic, MustangOnlyOne gives this car a 7.5 out of 10 points, as the original engine is gone and the car has been customized a bit, so a back-to-original restoration with original engine and transmission is not possible.
For VIN Decoding:
This is a project car in ready to restore condition. We guarantee satisfaction with this vehicle upon final inspection and we will assist in loading for transport. It has no other warranty or guarantee of any kind and is sold as is. All we can do is describe the vehicle for full disclosure as detailed as possible, inside, outside, and underside. This vehicle is sold on consignment by MustangOnlyOne for the original owner. MustangOnlyOne has performed a complete inspection and appraisal of this vehicle. We also provided the photo session and listing. We are very proud to offer this 1965 Ford Mustang 2+2 Fastback for auction.
Bid with Confidence!
---
MustangOnlyOne Inspection:
These are our more detailed inspection pictures, which include any visible damages and customized extras.
Please examine them carefully before making your decision.
If you have any questions about this or any of my other auctions please feel free to contact us via email or call us at 1-904-860-4102 9:00am to 9:00pm Eastern Standard Time. We are located in bright sunny Florida.
Thank you for your interest, we look forward to hearing from you.
Return to previous page