1965 Ford Mustang Coupe

Daily Driver • California Car • Numbers-Matching


Let Me Tell You About the Owner...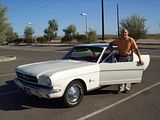 Jay has lived in Arizona for the past 10 years or so, but bought this car in the middle of last year in Ponoma, California at a swap-meet. When he was younger, Jay owned a similar 1965 Mustang and decided to buy this car for the old memories--he even managed to save the "STANG" tag that you see on this car from his original! Unfortunately, Jay's having a hard time finding someone to help him work on this car, so he decided to sell it because he couldn't keep up with the maintainance.

Thank you for helping us save this beauty!
She needs to be in the right hands: someone that will garage her, drive her, maybe restore her, and love her.
---
MustangOnlyOne Summary:
What makes this 'Stang so great is that it is a numbers-matching 1965 Mustang Coupe in very good, daily driver condition. In fact, virtually the only defect is the unsightly damage to the paintjob on the trunk lid. This car has a 200 1v I6 and C4 automatic transmission, all stock and running good. It also has a Rally Pac, Mustang Air Conditioning (the compressore is leaking, however; needs service), power steering and power brakes. The interior is in excellent condition, extremely well-preserved, considering the restoration is somewhat old, a while before Jay bought it. The undercarriage is black and California rust-free (though the car is now in Arizona). For overall frame preservation and reliability, MustangOnlyOne gives this car a 10 out of 10 points as a daily driver, as it is all original, un-modified, and runs great with some regular love and attention. For overall quality and performance, MustangOnlyOne gives this car an 8 out of 10 points, as the dent and paint damage on the trunk lid negatively affects this car's overall appeal, which would otherwise be very high. This car is perfect for someone looking for a simple, classic Mustang to drive around town and tinker with on occasion to keep her purring.
For VIN Decoding:

For NADA Pricing:
This is a classic car in daily driver condition. It can be trustfully driven anywhere. We guarantee satisfaction with this vehicle upon final inspection and we will assist in loading for transport. It has no other warranty or guarantee of any kind and is sold as is. All we can do is describe the vehicle for full disclosure as detailed as possible, inside, outside, and underside. This vehicle is sold on consignment by MustangOnlyOne for the original owner. MustangOnlyOne has performed a complete inspection and appraisal of this vehicle. We also provided the photo session and listing. We are very proud to offer this 1965 Ford Mustang Coupe for auction.
Bid with Confidence!
---
MustangOnlyOne Inspection:
These are our more detailed inspection pictures, which include any visible damages and customized extras.
Please examine them carefully before making your decision.
If you have any questions about this or any of my other auctions please feel free to contact us via email or call us at 1-904-860-4102 9:00am to 9:00pm Eastern Standard Time. We are located in bright sunny Florida.
Thank you for your interest, we look forward to hearing from you.
Return to previous page