1966 Ford Mustang Coupe

Ready to Restore • Numbers-Matching • 289 2v V8


Let Me Tell You About the Owner...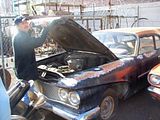 Dave runs a custom metalwork shop out in Arizona, where he also likes working on classic cars in his spare time. His current project is a 1957 Chevy (far left, above), which they have completely stripped and have begun painting. Dave does all kind of metalwork--stairs, railing, artwork (check out that cool sculpture in the center), anything you need. Dave's also a big-time outdoorsman; he likes taking his 18' fishing boat out with his buds fishing on the weekend or when work is slow, and also taking trips up to South Dakota to Quail hunt on his father's ranch.
Dave keeps a bunch of cars on the lot, including this 1966 Coupe, which he buys, sells, and trades, constantly on the lookout for his next project. He got this baby from a lady in South Dakota who had kept it in a barn for many years, but it hasn't sustained too much damage.

Thank you for helping us save this beauty! She needs to be in the right hands: someone that will garage her, restore her, and love her.
---
MustangOnlyOne Summary:
What makes this 'Stang so great is that it is a 1966 Mustang Coupe that is all-original and numbers-matching and ready to restore. It has a 289 2v V8 with 3-Speed manual transmission and Pony Interior with Bench front seat. According to Dave, the engine does not currently operate--it will need a full rebuild. Also, this car does not have a radiator, alternator, or battery. Its tires are new. This car is solid and has no major damage, although the bumper is bent and the rock deflectors are a bit beat up. The buyer will need to begin treating the rust ASAP to avoid severe damage. Overall, this is a great car to restore as it has all its original components and does not appear to have ever been wrecked, so the frame is straight.
For VIN Decoding:
This is a classic car in ready-to-restore condition. It does not currently operate. We guarantee satisfaction with this vehicle upon final inspection and we will assist in loading for transport. It has no other warranty or guarantee of any kind and is sold as is. All we can do is describe the vehicle for full disclosure as detailed as possible, inside, outside, and underside. This vehicle is sold on consignment by MustangOnlyOne for the original owner. MustangOnlyOne has performed a complete inspection and appraisal of this vehicle. We also provided the photo session and listing. We are very proud to offer this 1966 Ford Mustang Coupe for auction.
Bid with Confidence!
---
MustangOnlyOne Inspection:
These are our more detailed inspection pictures, which include any visible damages and customized extras.
Please examine them carefully before making your decision.
If you have any questions about this or any of my other auctions please feel free to contact us via email or call us at 1-904-860-4102 9:00am to 9:00pm Eastern Standard Time. We are located in bright sunny Florida.
Thank you for your interest, we look forward to hearing from you.
Return to previous page