1966 Ford Mustang Custom Street Rod

Fully Customized • 347 5.0 Stroker Kit • 450 horsepower






---
Let Me Tell You About the Owner...
Click any Pictures to Supersize!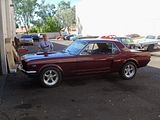 Becka is a really nice lady that Doug met while out photographing John's 1967 Shelby Eleanor Clone, and in no time Doug and Becka were talking away and arranging to sell one of her Mustangs, too! Becka and her husband both love classic cars and street rods (her husband has a Vette!), so they aren't afraid to put some extra umph under the hood! They usually have professionals restore and modify their cars, so Becka just happened to come by John's Mustang Shop when Doug was there, and lucky for her and us! Becka is of the train of thought that advocates driving Mustangs, not garaging them, so she loaded this car up with a lot of performance parts and cosmetic flair, instead of focusing on restoring it to original factory specifications--so this car would be perfect for someone looking for a very powerful and reasonably priced Mustang that has had a few modern touches put on it since its release in 1966!




Thank you for helping us save this beauty! She needs to be in the right hands: someone that will drive her, garage her, and love her.
---
MustangOnlyOne Summary:
What makes this 'Stang so unique is that it is in excellent shape, is loaded up with high-performance parts, and is simply beautiful! Becka has over $54,000.00 worth of receipts for parts and labor on this car, and will include them with the purchase of this car. This car is loaded with a Ford Motor Sports 347 Stroker 5.0 Sportsman block with custom Z aluminum heads, which boasts of 450 horsepower and 400 lb-ft of torque! It also has top-of-the-line MSD Ignition system, aluminum Ford Racing valve covers and intake, all-around disc brakes, Power Steering and Brakes, a 9" Pos Traction rear end, and tons more! Just look at the Inspection pics! This car was very recently restored and modified, so virtually all of its parts are like-new with very little mileage on them--the car's odometer reads 4,492! For overall frame preservation and reliability, MustangOnlyOne gives this car a 10 out of 10 points, as it is solid and in excellent shape, though it should be noted that this car has very few, if any, original components. For overall quality and performance, MustangOnlyOne gives this car a 10 out of 10 points, as it was professionally designed and assembled, and is as powerful as it is beautiful.
This is an classic street rod in excellent condition. It can be trustfully driven anywhere. We guarantee satisfaction with this vehicle upon final inspection and we will assist in loading for transport. It has no other warranty or guarantee of any kind and is sold as is, unless certain components of the vehicle still have existing warranties. We try our best to describe the vehicle for full disclosure as detailed as possible, inside, outside, and underside. This vehicle is sold on consignment by MustangOnlyOne for the original owner. MustangOnlyOne has performed a complete inspection and appraisal of this vehicle. We also provided the photo session and listing. We are very proud to offer this 1966 Ford Mustang Custom Street Rod for auction.
Bid with Confidence!
---
MustangOnlyOne Inspection:
These are our more detailed inspection pictures, which include all (if any) visible damages and customized extras.
Please examine them carefully before making your decision.
If you have any questions about this or any of my other auctions please feel free to contact us
via email
or call us at 1-904-860-4102 9:00am to 9:00pm Eastern Standard Time. We are located in bright sunny Florida.
Thank you for your interest, we look forward to hearing from you.
Return to previous page