1967 Ford Mustang Shelby GT 500 or Eleanor Clone

Paint and Body Work Done • No Engine or Tranny






---
Let Me Tell You About the Owner...
Click any Pictures to Supersize!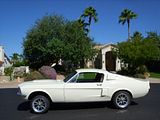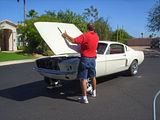 Ed is a great guy that Doug met out in sunny Arizona--not to be confused with Ed, the big cheese here at MustangOnlyOne's home base in Florida! Ed from AZ is a contractor who builds and remodels homes for a living. He even built his own house, and if it's any indication of the quality of work Ed does, he sure is a very gifted craftsman! Unfortunately, he's a little camera shy, so he didn't want his picture taken to put up on our listing of his cars! He agreed to sell TWO of his great classic cars: the first is a completed 1965 Shelby Clone, and the second is a 1967 Shelby Clone that is not yet done, but has all the body work completed.

Yep, you guessed it: Ed's a Shelby man! Having said that, we have to admit that Ed does like other classic and modern cars, such as Chevy Trucks and classic Camaros; but we won't hold that against him! But why Shelby Clones? He prefers the look of the Shelby, but without the hefty price tag--and the best part is that he's willing to pass that great deal on to you, the purchaser of any one of his cars! These cars look and drive just like a Shelby should, but don't cost nearly as much; so as long as you're not set on getting a numbers-matching Shelby Mustang, these cars may be for you!




Thank you for helping us save this beauty! She needs to be in the right hands: someone that will finish her, drive her, and love her.
---
MustangOnlyOne Summary:
What makes this 'Stang so unique is that it is a 1967 Ford Mustang Fastback that has had all the body work and most of the interior work done to get it on the way to being a Shelby GT500 or GT500E Eleanor Clone! Ed has professionally and masterfully built this Arizona car to have all the body additions necessary for a Shelby, which is an expensive job in itself. It has no rust, is structurally perfect, and has an excellent, beautiful paintjob! Ed has priced this car reasonably, as it would cost a lot to get a car in this excellent condition with these Shelby parts installed already. For overall structural integrity and reliability, MustangOnlyOne gives this car a 10 out of 10 points, as it is rust-free, very solid, and will make a great car once it has the needed hardware--remember, it has no engine or transmission at this time! For overall quality and performance, MustangOnlyOne gives this car a 10 out of 10 points, as it has been masterfull built up to this point with top-quality Shelby body parts and a great, beautiful paintjob!
For VIN Decoding (note this is a Clone, and as such does not match original VIN specs):
This is a clone muscle car that is in ready-to-restore condition. We guarantee satisfaction with this vehicle upon final inspection and we will assist in loading for transport. It has no other warranty or guarantee of any kind and is sold as is. All we can do is describe the vehicle for full disclosure as detailed as possible, inside, outside, and underside. This vehicle is sold on consignment by MustangOnlyOne for the original owner. MustangOnlyOne has performed a complete inspection and appraisal of this vehicle. We also provided the photo session and listing. We are very proud to offer this 1967 Ford Mustang Shelby GT 500 or Eleanor Clone for auction.
Bid with Confidence!
---
MustangOnlyOne Inspection:
These are our more detailed inspection pictures, which include all visible damages and customized extras.
Please examine them carefully before making your decision.
If you have any questions about this or any of my other auctions please feel free to contact us
via email
or call us at 1-904-860-4102 9:00am to 9:00pm Eastern Standard Time. We are located in bright sunny Florida.
Thank you for your interest, we look forward to hearing from you.
---
Sold! Terry trailer'ed his new Mustang back to Tucson!
Terry came down from Tucson to get his Mustang. He is a Mustang man and has a couple of more at home. He has always wanted a Shelby and now he has one! Terry already got the motor and transmission needed to get this car on the road. Happy driving!
Return to previous page