1967 Ford Mustang Convertible

Great Shape • Restored to Original Specifications






---
Let Me Tell You About the Owner...
Click any Pictures to Supersize!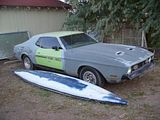 Doug found Jerry and his cars in beautiful Albuquerque, New Mexico, home of the famous Hot-Air Balloon Festival, the most photographed festival in the world! Jerry is an Astronautical Engineer, so cars must be a piece of cake for him! His wife has been a real-estate agent for the past few years, so she's relatively new to it, though she has been very successful. Luckily for Jerry, she loves these classics as much as he does, and uses her network of people and information to find him new cars to work on and save. She finds them, and Jerry looks at them and makes the final decision. They have multiple classics including two Mustangs: the 67 we are selling them, and a 71 fastback (pictured above) that is currently not for sale. They also have a big old Chevy coupe that he was going to give to a family member, but he opted out of it because the car is just too powerful!
Jerry and his wife also love Mustangs of a different kind: the real thing! Pictured above is George, who has been Jerry's companion for about twenty years. We're glad he takes care of all his horses so well: he has fully restored this 1967 Convertible, back to all original specifications!




Thank you for helping us save this beauty! She needs to be in the right hands: someone that will garage her, restore her, and love her.
---
MustangOnlyOne Summary:
What makes this 'Stang so unique is that it has been restored to original specs, as per the VIN information. It's got a beefy 289 v8 and original 3-Speed Manual Transmission--a lotta power and speed under the hood on this baby! The exterior and interior are in great shape, with only minor blemishes and imperfections. This car looks great, but runs even better! For overall frame preservation and reliability, MustangOnlyOne gives this car a 10 out of 10 points: she's in great shape, ready to hit the streets like it's 1967! For overall quality and performance, MustangOnlyOne gives this car a 9.5 out of 10 points, as it does have a few minor imperfections (see the Inspection below).
For VIN Decoding:
This is a classic pony car in great condition and is road ready. This auto can be trustfully driven anywhere. We guarantee satisfaction with this vehicle upon final inspection and we will assist in loading for transport. It has no other warranty or guarantee of any kind and is sold as is. All we can do is describe the vehicle for full disclosure as detailed as possible, inside, outside, and underside. This vehicle is sold on consignment by MustangOnlyOne for the original owner. MustangOnlyOne has performed a complete inspection and appraisal of this vehicle. We also provided the photo session and listing. We are very proud to offer this 1967 Ford Mustang Convertible for auction.
Bid with Confidence!
---
MustangOnlyOne Inspection:
These are our inspection notes and pictures of all visible damages and customized extras.
If you have any questions about this or any of my other auctions please feel free to contact us
via email
or call us at 1-904-860-4102 9:00am to 9:00pm Eastern Standard Time. We are located in bright sunny Florida.
Thank you for your interest, we look forward to hearing from you.
---
SOLD!
Rich bought this convertible to complete a nut and bolt restoration! He already has an Eleanor reproduction and wants a convertible to match. Rich is from the Netherlands and is going to become a MustangOnlyOne partner as well. He will be handling importing issues and our European sales. Great to have you, Rich!
Return to previous page