1969 Ford Mustang Fastback

Fully Restored • Show and Driver
Reserve today with a $1,000.00 deposit!


---
Let Me Tell You About the Owner...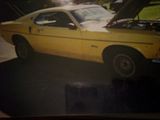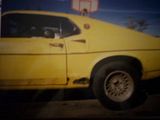 Tony's a young guy from New York state who shares his dad's love of classic cars, especially Mustangs! He and his dad started restoring this beautiful car around four years ago, and as you can see, they started with a solid car! This just guarantees that the finished product will be an ever better restored classic. Tony and his dad were very particular in their vision of their completed car: the car underwent a complete rotisserie restoration and professional paintjob process, which is the best job one can do! They spent over a year restoring or replacing the body metal and getting it absolutely perfect! By Tony's own description, this car was a rustbucket before they saved it.
Tony and his dad completely gutted the interior and replaced or restored everything in there, so it is emaculate and like-new. The floorpans have been replaced, the seats reupholstered, and the headliner replaced with a new one, in addition to a wealth of other improvements. They also installed an aftermarket Pioneer CD/MP3 player. Gotta have the tunes!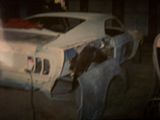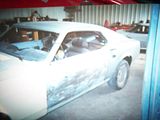 Tony is in the Border Patrol, and was recently re-assigned to a station in New Mexico, with the eventual plan being to send him to Southern California. Because of his re-assignment, he and his dad were not able to completely finish the restoration: the engine and engine compartment have not yet been restored. Yet despite this, Tony tells us that he has driven this car for about a year, and that it runs great and reliably. Otherwise this entire car has been restored to the highest standards. He has loved Mustangs his whole life, and hates to sell his baby, but he hopes to get a bigger, badder one one day: maybe a Mach I or a Boss!
Thank you for helping us save this beauty! She needs to be in the right hands: someone that will garage her, drive her, and most importantly, love her.
---
MustangOnlyOne Summary:
What makes this 'Stang so unique is that it is a great car from a great model year that has underwent the best restoration process that can be done! It has been disassembled and professionally painted, and has had its entire sheet metal and body restored or replaced to be in like-new condition! The entire interior has been restored very meticulously, and most of the parts have been replaced with top-of-the-line parts, such as Cragar rims and Cooper Cobra tires. However, the engine has not yet been rebuilt, and the engine compartment has not yet been restored, but otherwise this car is completely done. It has mostly new replacement parts instead of original restored parts. For overall frame preservation and reliability, MustangOnlyOne gives this car a 9.5 out of 10 points, because the engine has not been rebuilt, but otherwise the entire car is very solid, and very reliable. For overall quality and performance, MustangOnlyOne gives this car a 10 out of 10 points.
For VIN Decoding:
This is a classic pony car in restored condition and is ready to drive. This auto can be trustfully driven anywhere. We guarantee satisfaction with this vehicle upon final inspection and we will assist in loading for transport. It has no other warranty or guarantee of any kind and is sold as is. All we can do is describe the vehicle for full disclosure as detailed as possible, inside, outside, and underside. This vehicle is sold on consignment by MustangOnlyOne for the original owner. MustangOnlyOne has performed a complete inspection and appraisal of this vehicle. We also provided the photo session and listing. We are very proud to offer this 1969 Ford Mustang Fastback for auction.
Bid with Confidence!
---
MustangOnlyOne Inspection:
Exterior:

New quarters, wheel wells, fenders, door handles, front and rear bumpers, mirrors, grille, valances panels front and back, all new chrome trim around doors, windows, hood and trunk. New headlight rings, blinker and marker light assemblies, reverse light assemblies. New chrome emblems on grille, trunk, fenders and quarters. Fresh Paint and straight body lines.

Interior:

Interior was gutted, floor pans were replaced, seats were reupholstered, new headliner, carpet, Pony floor mats, door panels, arm rests, NOS dash, door handles, Pioneer cd/Mp3 player.

Wheels:

Chrome 15x7 Cragar SS rims, Cooper Cobra Radial G/T tires.

Front brakes and spindles were converted to disk off a 1975 Mercury Cougar. Front pads, rotors, wheel seal and inner and outer bearings were replaced this summer. New shocks, tie rods, steering stabilizer, sway bar links, power assist valve for PS.
---
Ammar from Canada decided that he couldn't live without this baby! Now, its here in Florida for some engine restoration. Once we restore the engine compartment and build the engine, this one will be perfect! We agree with Ammar this one is sweet.... Ammar is just getting into classic cars and we hope to have a long relationship with him!
Return to previous page